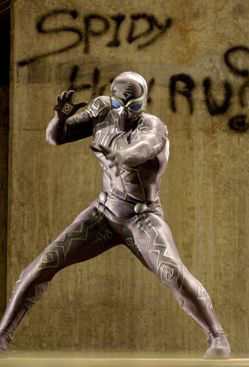 The recently ended Pusan International Film Festival had its
Special Program in Focus on Superheroes in Asia
, which featured 2006's
Mercury Man
from Thailand and
10 other Asian supers
.
Io9 reviews the program
, with this to say about
Mercury Man
:
Mercury Man was a more Western take, with a hero overtly modeled after Spider-Man. Mercury Man is a Thai fighting Afghan terrorists for America, a concept that continues to make our brain explode.
According to io9
, causing more of a stir in Pusan was
Cicak Man 2: Planet Hitam
, a sequel to a 2003 Malaysian film that hits cinemas in December. And there's the prospect of
Jeon Woo Chi
, a $12-million South Korean sci-fi fantasy with a rascally hero.
The Hollywood Reporter also had details
on that.
The Hollywood Reporter also has a report
on another project: A film of
Ramayan 3392 A.D.
, Deepak Chopra's and Shekhar Kapur's superhero comic adaptation of the
Ramayana
-- which along with
Sita Sings the Blues
-- is something I'd like to see.